Is Dhgate Safe ?Is Dhgate Legit?All You Need Know About Dhgate
Many buyers will have such questions: Is DHgate safe? Is DHgate legitimate?
If you landed here with these questions in mind, then you are in the right place. Right from the start, we want to tell you all about the DHgate.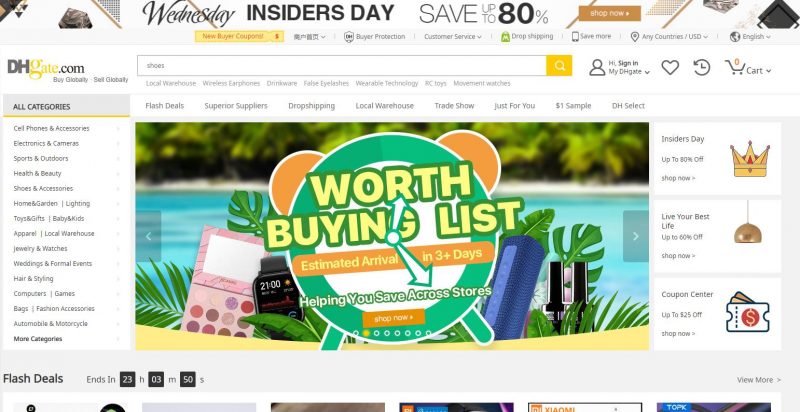 What is Dhgate?
DHgate was founded by Diane Wang in Beijing in August 2004[1] and was officially launched in 2005.it is a Chinese business-to-business (B2B) and Business-to-consumer cross-border e-commerce marketplace that facilitates the sale of manufactured products from suppliers to small and medium retailers. It is one of the largest B2B-cross-border e-commerce trade platforms in China. The company is located in Beijing and has offices worldwide, including in the US and UK. (This instruction is from Wiki) It is sites like aliexpress.
Is Dhgate legit?

Like many other marketplaces based in China, DHgate is also very well-known. DHgate is a legal B2B platform. But DHgate on small wholesale. so DHgate is absolutely a legit platform, but the most important point is to find a reliable supplier before you buy.DHGate inevitably attracts some bad seller. Put simply, some sellers scam their customers. But, thankfully, they're in the minority.
A reliable supplier determines whether there is a good user experience.
The following picture analyzes the ranking of Dhgate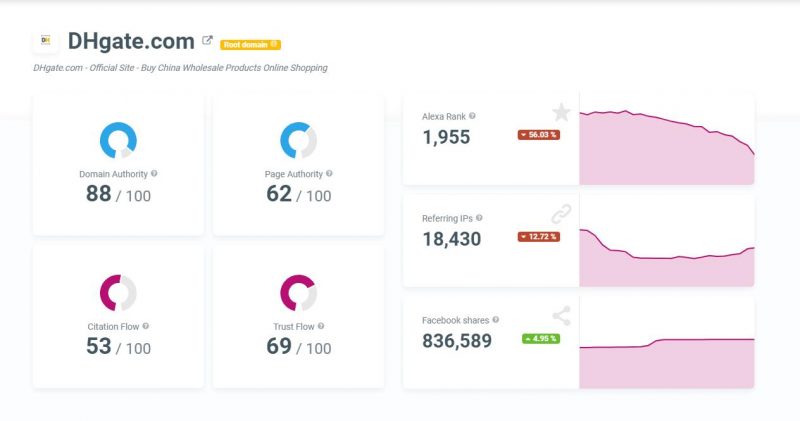 Is DHgate Safe?
DHGate is safe and secure. Their credit card processing is as secure as one could hope for anywhere and since you're actually purchasing from individual sellers ("DHGate" does not sell products – people on DHGate sell products, like a wholesaler version of eBay),
They have a dispute resolution center that protects both sellers and buyers. DHgate has a complete set of rules and regulations for dispute settlement.
They have strict action if someone violates their policies. This can result from cashback to account suspension depending on the severity.
so in order to avoid disputes and a good shopping experience, it is very important to choose the right seller.
DHgate Buyer Protection
It has well-established Buyer Protection and Returns & Refund protections rules, They deal with problems from the point of view of fairness and justice
If the dispute is not resolvable between the buyer and seller, you can take it to DHgate. They offer mediation, that is, unbiased for either side. They have professionals that investigate the matter and smartly resolve the issues.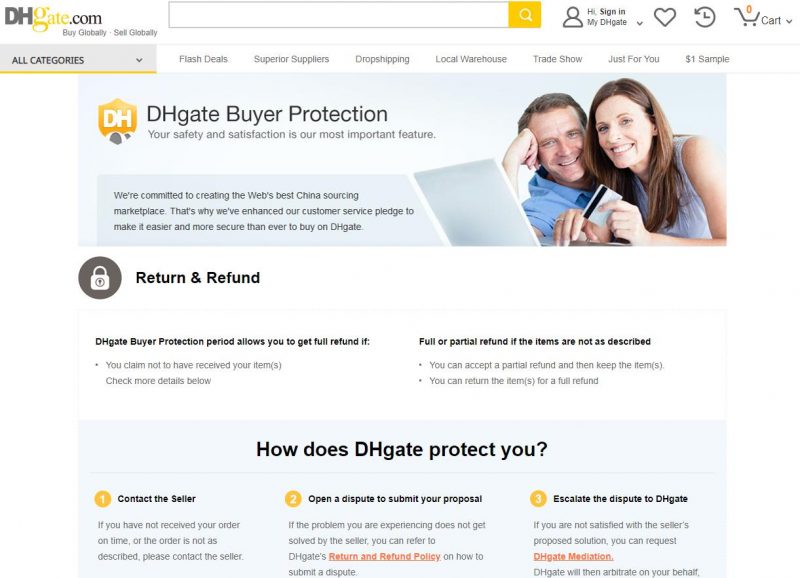 The mediation service of DHgate is very professional and active. You do not have to wait for so long for the results. They resolve most of the cases in real-time.
If the products are under-quality, results in different types of penalties. From yellow card warnings to complete freeze and termination.
DHgate icons to help note seller is good or bad
Like other sites, there are well-established scoring rules to help buyers choose the right seller.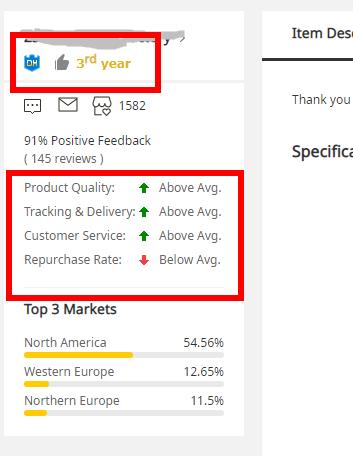 How to find a reliable seller on DHgate?
You can quickly judge whether this is a good seller by the following points:(You can refer to the picture above)
Professional sellers(The shop sells only one type of product)
A professional seller will provide a good product listing, including the natural and real appearance picture and clear product specification. And they will provide a clear after-sales policy.
They might have a good price
The store opening period(The longer the better)
Four service scores(all green is great)
Recommended seller, first-rate service icon
The overall number of comments(The more the better)
Analysis by DHgate reviews
Three rating sites were selected at random below.DHgate review on many rating review sites is average or not good. The reason behind that is people do not follow the procedure.
Because of the high number of sellers, it is difficult to scrutinize good and bad sellers. Most buyers that are satisfied by the buying process do not rate.
Trustpilot

sitejabber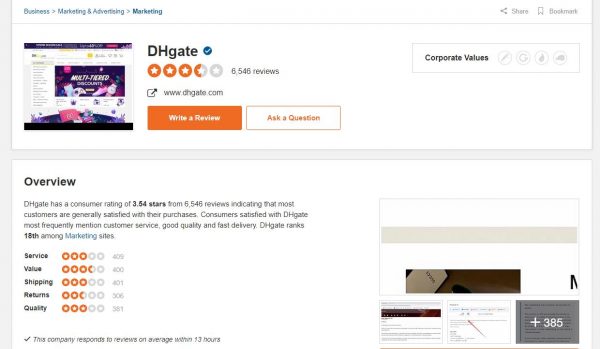 resellerratings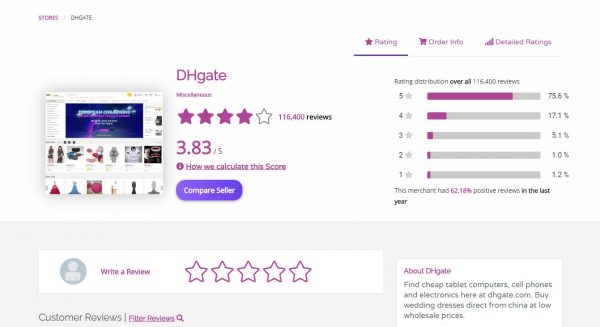 Why do some buyers think DHgate is a scam or fake?
Longship time, and lost package
Sometimes, in order to save costs, sellers choose China Post to send packages, which leads to a lot of time spent on the road.(Usually, there is no tracking information before arriving at the destination country, and this mode of transportation has a high probability of lost items)
Poor quality of products
Some sellers sell at extremely low prices, but the quality of the products is also poor
Frauds connected with paying for the goods
There is not any fraud related to payment for the process when following the proper channel. The payment should be made through DHgate preferred processes.
To Wrap Things Up
DHgate is from every perspective safe and legit. All you need is to do it in the right way as suggested. Follow the methods in this article you can find reliable suppliers
We are pretty much sure that now you would not have any questions in your mind like, is DHgate safe or is DHgate legit?
If it were not a legit marketplace, it would not have expanded that much. It has started a joint venture with many governments worldwide to ease the business for all.
They are also focusing on Women's empowerment. DHgate has successfully launched many DTC points in Europe and Asia and expanding it beyond that. In a nutshell, DHgate is safe and legit, but we must follow the procedure to bear the fruit.
We, the leading sourcing companies in China, help many small businesses find the best manufacturers, ensure the quality of products and arrange the shipment to their doorstep, making the whole sourcing process a lot easier and safer. If you'd like to source products from China, feel free to CONTACT US.